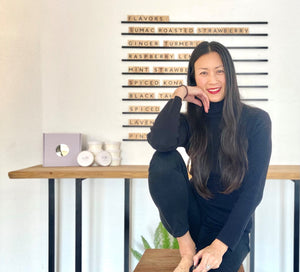 my bio
for the last 20 years, ive worked in the luxury market with prestigious companies such as prada, lvmh and dolce & gabbana, but i have always loved cooking and showcasing asian recipes with a global twist. it's in my blood. my family's culinary skills were passed down by relatives who were trained in the last emperor's kitchen in mainland china.
born in argentina and raised in new york, my inspiration comes from my taiwanese roots, but i also love learning other food cultures and finding imaginative ways to fuse them together.
i have lived in italy & london, traveled throughout the us, europe and asia and absorbed all the unique flavors of each region. my focus is on organic and simple ingredients.
now a left coast transplant with an entrepreneurial spirit, i am ready to make my mark in food.
xx alicia
my start
as many did, i cooked my way through the covid pandemic.  i took culinary courses with a focus on plant-based cooking. i tested recipes including plant-based ice cream when I realized how much whole milk, heavy cream, sugar and other artificial additives were included. i challenged myself to produce a healthier option with all natural and organic ingredients.
creating flavors is the fun part. a firm believer that opposites attract and proudly live by the chinese philosophy, yin & yang, where contrary forces may be complementary & interconnected, i follow that philosophy in my recipes, using spices and herbs and unlikely pairings...voila, Lavender and Truffles was born!
friends loved it, friends of friends started ordering, a local café picked it up, Kye's Feel Good Food, followed by one of the best grocers in LA... Erehwon! hope you enjoy these delectable flavors!