The handcrafted plant-based ice cream infused with kaleidoscopic flavors of Asia will delight the most discerning culinary enthusiast!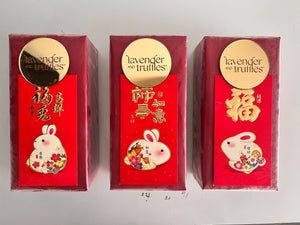 Lavender and Truffles reimagines classic flavors churning small-batch, rich and creamy non-dairy frozen desserts bursting with flavor. Each pint contains 40 to 50% less calories and fat compared to traditional dairy ice cream.
Our 8 signature flavors, Black Tahini, Ginger Turmeric, Lychee Rose, Matcha Stracciatella, Dalgona Coffee, Mint Strawberry, Salted Chocolate and Vanilla Classic, each offer something truly special with every scoop. Carefully formulated with wellness in mind, Lavender and Truffles uses 7 essential all-organic ingredients:
oat milk, coconut cream, cane sugar, tapioca syrup, agave inulin, guar gum, locust bean gum
Of Taiwanese descent, born in Argentina and raised in New York, Founder and Chief Flavor creator Alicia Liu moved to California where her ice cream journey began after 25 years as a veteran in the global fashion industry.  Beautiful inside and out, the packaging design boasts an elegant silhouette akin to high quality beauty brands. The distinctive ombre colors correspond to each flavor adding to the sensory and savory experience.
"The human senses are heightened when we smell and taste new flavors, and lasting memories are made.
These flavors (together) are so unique that I wanted them to be giftable" -Alicia Liu 
Lavender and Truffles can also be found at specialty grocers and restaurants in the greater Los Angeles area including Erewhon, Vicente Foods, Zinque Cafes, Yoboseyo, Arroz & Fun and Chifa & Monarch restaurants, to name a few. Recent partnerships include collaborations with Chantecaille, Ghetto Gastro, Jack's Wife Freda and Flax Home.